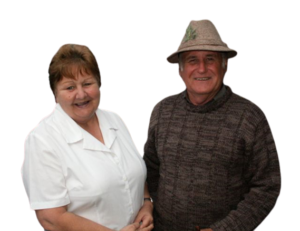 Frank Baker came to Tahmoor with his family in 1954 when aged 11. He left school early and held various jobs before joining the army at the age of 18. He served for six years, including a tour of duty in Vietnam. Following his military service, he worked in the Repatriation Ward of the Queen Victoria Memorial Hospital (now known as RSL LifeCare – John Goodlet Manor) at Thirlmere, caring for veterans.
Left: Wendy and Frank Baker
Initially, his photo collection began as a quest to find old school photos, particularly from his early years at Tahmoor Public School. However, he soon discovered that the school had kept very few copies, which sparked his determination to track down as many photos as possible and compile them into albums. Throughout this journey, he received invaluable assistance from numerous teachers and families that he contacted, many of whom also generously shared their own family photos.
His photographs are not only cherished by the individuals depicted in them, but they also offer a priceless glimpse into the life of a rural community that is rapidly fading away.
We are deeply honoured to be entrusted with the task of showcasing Frank's remarkable collection and making it available to all, thus contributing to the preservation of our local communities' precious memories.
There are six photograph galleries:
Gallery 1 opens on page load – Click a photo to start the slide show.
Click a Gallery (2 to 6) to open it, click a photo within the gallery to start the slide show.
Note : The Search feature will currently only find text in the photo name