The Society holds a substantial amount of reference and archive material relating to land ownership.
Not all land records are held in our Research Room and we strongly recommend that if you are researching these records, you contact the Society with details of your request prior to your visit.
Landholder Returns
District of Picton 1885 – includes Bargo, Bringelly, Brownlow Hill, Burragorang, Camden, Cobbitty, Douglas Park, Greendale, Menangle, Mulgoa, Narellan, Picton, The Oaks, Werombi, and Wilton
​Picton to Mittagong Deviation Resumption Notices
Lists name of owner of land resumed for railway deviation of 1915
Jarvisfield Estate Subdivision
List of original purchasers from the subdivision – indexed
Index to Local Government Assessment Register 1905-6 Municipality of Picton
​
Land Title Deeds
Original and copies of various title deeds, primary applications and associated documents relating to Picton and surrounding districts.
​
Parish Maps
Appin
Bargo*
Burragorang
Camden*
Couridjah*
Eckersley
Killawarrah
Picton*
Wallandoola
Weromba
Werriberri
Wilton*
(* denotes index to map)
​
​Town Maps
​

Village of Picton at Stonequarry in County of Camden, 1845, (Upper Picton)
Village of Picton, 1892
Wilton Town Maps, 1842
Village of Couridjah,1967
Village of Thirlmere, 1888, (names of purchasers)
Village of Thirlmere, 1970
Private town of Picton, 1870
Wollondilly Shire Council Planning Maps
Appin, Bargo, Burragorang, Burragorang Heights, Buxton, Douglas Park, Elizabeth Estate Silverdale, Menangle, Mt. Hunter, Oakdale, Tahmoor, The Oaks, Thirlmere, Warragamba, Wilton, Yanderra.
​Lithograph Estate Sales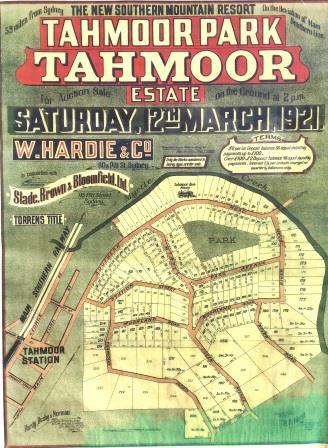 Hardwicke or Brooks Point Estate near Appin on the Nepean River, 15 April 1842 (inc. landholders' names)
Jarvisfield Estate, Picton, 2 April 1921
Macquariedale Estate near the town of Appin on the River Nepean, 13 April 1842
Morton Park Estate, 24 November 1917
Nepean Towers Estate, 20 January 1906
Overbridge Estate Bargo, 8 March 1924
Reservoir Hill Estate Bargo
Station Estate, West Bargo, 24 January 1920
Tahmoor Railway Station Estate, 7 April 1917
Tahmoor Park Estate, 12 March 1921
​
​Surveyor's Plans
Plans of allotments sold by the Crown at Upper Picton (with names of purchasers)
​Subdivision Maps
Various – for Bargo, Buxton, Tahmoor, Thirlmere